Day 54
Although I slept well, the morning found me still tired. The coffee helped a bit; the hotel offered it in addition to a light continental breakfast. Serendipity started hiking while the rest of us went to the outfitter to buy fuel and Picaridin spray. Cricket and Hummingbird returned to the track, but my body wasn't ready. I hung out at the hotel, waiting for the rest of our tramily.
Shortly before noon, Sonic Boom, Lieutenant Dingleberry, High Route, and Hobble-It arrived in town. With a hiker named Three Sticks, we went for brunch at Cracker Barrel. Sonic is such a mother to our family, making sure the rest of us had snacks until our table was ready. The food wasn't amazing, but it was great fun. I got to know Dingleberry. He's from Dayton, Ohio. Previous adventures include hiking the Buckeye Trail and biking from Seattle to Washington DC in 79 days.
Hobble-It and I planned to hike after brunch. She needed a resupply first, so I accompanied her and the others to Kroger. I sat next to Three Sticks while he ate sidewalk sushi and had a snack, marveling at how natural it felt to sit anywhere to eat. Then I wandered into Outdoor Trails to watch High Route try out some new shoes. By then it was over 3pm, next reliable water at least 9 miles down the trail. Hobble-It and I decided to crash with Sonic and Dingleberry then hike in the morning.
Cricket and Hobble-It both have buzzcuts and Serendipity cut his very short. It seems so low maintenance. Plus, all I do is braid mine and put it away. I told Hobble-It my thoughts and she loved the idea, offering to provide moral support. In fact, she, Sonic, Dingleberry, and High Route all left with me. Sonic insisted on documenting the entire process. High Route said my new haircut made me look like a model. I love it! Running a hand over it was like petting a horse, and the breeze stirred every hair.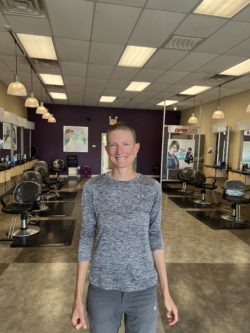 Back at the Super 8, Hobble-It and I hung around the room while the guys went to a church meal. We found bottles of permethrin in the hiker's box and sprayed our hiking clothes, socks and shoes. I now feel better protected against ticks. When the guys came back, we stayed in the bedroom talking. Eventually High Route returned to his room and we fell asleep.
Day 55
I had a good night's sleep and felt rested. At 7am we met High Route downstairs for breakfast. He looked very happy in his brand new yellow Topo shoes. Planned high route to zero and looking for a soft pack. Sonic rented a car yesterday to drive to Waynesboro and hike Shenandoah with the family. He will later hike the section of trail he missed.
After breakfast, Dingleberry, Hobble-It and I headed back to the trail. Within a mile we reached the "1/3 of the way to Katahdin" sign and stopped for a photo. We took a break near a stream to filter the water and another at a shelter for lunch. I discovered that Dingleberry worked as a coal miner and more recently as a nurse.
A few miles after lunch we encountered the Blue Ridge Parkway (BRP) for the first time. The trail runs parallel to it for more than 100 miles. Hobble-It walked along the side of the road to the next junction while Dingleberry and I stayed on the trail. The next three BRP crossings were lookouts with awesome views. In between, the trail mostly went through forest.
We stopped at Bobblets Gap Hut to get some water from a spring. There was no good campsite so we continued a short distance and camped next to the boardwalk. I left my flysheet and the others hung up their hammocks. A gentle breeze kept the temperature nice and we had a great view during dinner. The BRP has been quiet as this section is closed for the Blue Ridge Ironman 70.3 race which begins in the morning.
Day 56
I woke up with light and birds. Hobble-It and I sat in the grass next to the BRP, ate breakfast, and watched the sun slowly rise. It was beautiful, culminating around a blue mountain. I went on the trail and immediately met a hiker named Wise Acres. We walked the next six miles together, chatting about Legos and Star Wars.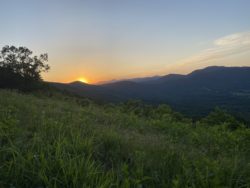 The trail descended far down to Jennings Creek and a bridge. Came across some unexpected trail magic! A cute couple, Heather and Goofy, who drove over two hours to camp and feed the hikers. Dingo hiked the trail in 2006. He cooked grilled cheese sandwiches on a camp stove in the back of their truck. I had grilled tomatoes and cheese. Then we went to the creek. Dingleberry briefly dove into the cold water as Hobble-It and I soaked our feet.
What goes down must go up! We spent the afternoon climbing. I stopped at the Bryant Ridge Hut to check it out. By shelter standards, it was a mansion, with three levels, the uppermost being quite generous in size.
As I approached the top of Floyd Mountain, I stopped my audiobook to take in the beauty. A uniform carpet of plants covered the forest floor and the birds sang loudly. At the top, I heard a loud noise and looked up to see two cubs quickly climbing a tree while their mother reared up on her hind legs and watched me. The mother fell on all fours and disappeared from view, so I continued the trail to give them space. I hiked about 100 feet then turned around and watched the cubs descend from the tree. They are such agile climbers!
During the short descent to the Cornelius Creek shelter, I was amazed by my first AT bear sighting. Hobble-It and Dingleberry were already there. Lots of good camping so we stayed for the night.
Day 57
I had a good night's sleep, waking up naturally from a convoluted dream a few minutes before 5am. Hit the track shortly after 6 a.m. Fog, for the first time in some time, gave the morning a mysterious feel, although it spoiled any view from Apple Orchard mountain. As I descended the mountain, I passed under the Guillotine, a large boulder suspended above a staircase between rock faces. Over the next button I came across a scythe brush for a three person team along the trail. We chatted briefly and I thanked them for maintaining the trail.
I had a quick lunch in Marble Spring, chatting with a hiker named Come Along. Then came a long descent to the pedestrian bridge over the James River. I reached my goal, 20 miles at 4 p.m.! My friend Mike from Colorado is in Virginia for a family reunion. His parents were waiting for me in the parking lot, coming back from the meeting. They drove me to their home in Roanoke.
Mike and I spent about an hour catching up. Then her parents took us to Mellow Mushroom for takeout pizza. We ate at a nearby park. It was a cute area with new picnic tables, bollard lighting and a fountain. The first GF pizza I've enjoyed since starting the trail! On the way back Mike drove a scenic drive through downtown Salem. Before bed, I restocked my Ursack with a restock box I had sent home. There were surprise treats from my parents and my sister!
Affiliate Disclosure
This website contains affiliate links, which means The Trek may receive a percentage of any product or service you purchase using the links in articles or advertisements. The buyer pays the same price as they otherwise would, and your purchase helps support The Trek's ongoing goal of providing you with quality hiking advice and information. Thanks for your help!
To learn more, please visit the About This Site page.