Visit a private park that spans four acres in Clackamas County and where seven trains run on the tracks so hundreds of park visitors can board.
MOLALLA, Ore. – You can say a lot about the health of a community by the parks it supports!
Molalla, Oregon has a dandy – where fried chicken and coleslaw are staple foods for dozens of families enjoying a space with plenty of elbow room that also allows kids to play safely.
A private park that spans four acres in Clackamas County and where seven trains run on the tracks so that hundreds of park visitors can embark on a 10-minute ride.
"It's great to see all of their smiles, to see the excitement, the look in their eyes," said Pat Duling, president and engineer of Pacific Northwest Live Steamers. "Every child loves trains and most adults love trains too, even if they don't necessarily admit it! "
Photos: Molalla train park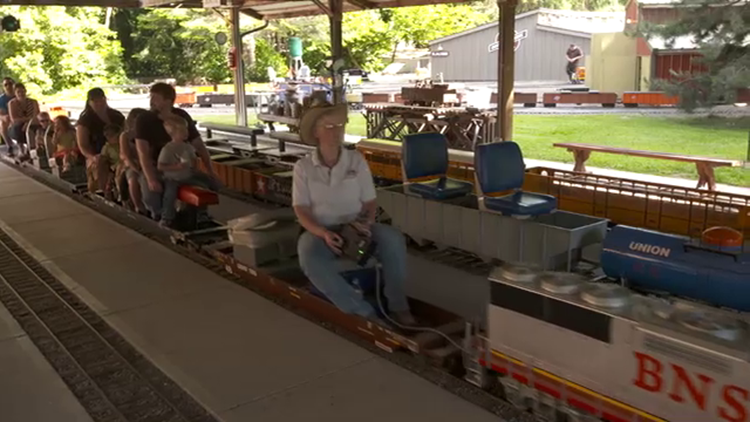 The Steamers is a train club whose members run the engines every week. Their trains are on the scale of the 1.5 inch model, so big enough for people to sit, ride and smile the whole way.
It was all designed by founder Harry Harvey who created the first track in 1954 as a gift to his community.
"When Harry started the park," Duling noted. "He wanted it to be free for everyone. So if you were less fortunate, you could always come and have a good time and give your family a great day out.
And it's always free – every Sunday – all summer!
Inside the "Dennis Jacobs Roundhouse", the members' locomotives are ready.
Dave Middleton and his son, Troy Middleton, agreed that their hobby is addictive.
"It's fun," said Dave who added with a chuckle, "When it gets to work, it's time to get out of the hobby! "
Back on the railroad, visitors Michelle and Travis Shatto love the connection between the railroad and childhood. Travis said he "struck very close to home!"
"I was 12 the last time I rode," said beaming Travis Shatto. "It was over 30 years ago when my uncle was a member. He brought us here in the middle of the week and we had the place to ourselves and he ran us around for hours.
His wife, Michelle, warmly agreed and added, "It's so quaint and really takes you back to when you were a little kid."
Molalla Train Park is open to engineers of all ages and it will put a smile on your face, guaranteed!
Each segment is a storytelling session where I tell behind-the-scenes stories of four decades of travel and TV reporting.
You can also learn about many of my favorite Oregon trips and adventures in Grant's Getaways book series, including:
The collection features hundreds of outdoor activities across Oregon and promises to be of interest to a child of any age.
My next book, "Grant's Getaways: Another 101 Adventures in OregonWill be published in the fall of 22.