[ad_1]
The climbers reached their base camps during the last monsoon rains in Nepal. As soon as the sun rose, they started their first rotations on the 8,000'ers.
This fall features crowds on Manaslu, familiar faces on Dhaulagiri, and a lone expedition on Kangchenjunga. Finally, a mystery team heads to Jannu, one of the toughest 7,000 on Earth.
First days in Manaslu and Dhaulagiri
Increasingly, Manaslu has become a smaller-scale fall version of Everest: the big numbers, the social media posts, presenting (sorry to be blunt) boring reports with overly enthusiastic news.
Once climbers get close to the top, interest may increase as leaders decide if they want to attempt the final, sharp ridge to the highest point. Crowds are not an option here.
So far, many teams have gone to Camp 1 – a fairly straightforward section on a glacier – and returned. Anna Tybor from Poland skied both ways.
 
On Dhaulagiri, as expected, many of those who attempted the peak last spring have returned to base camp. These include a group of Nepalese women (Maya Sherpa, Dawa Yangzum, Pasang Lamu and Purnima Shrestha). They aim to be the first women in their country to climb the so-called "white mountain".
The always hopeful Carlos Soria, 82, with 11 unsuccessful attempts on the Dhaulagiri, reports that the first snowfall indeed dressed even the base camp in white after a few days of rain.
After last spring, when COVID raged in base camp, the Seven Summit Treks team will be operating under the leadership of one of the company's owners, Tashi Lakpa Sherpa.
 
Independent climbers Szilard Suhajda and David Klein from Hungary are ready to begin their rotations while establishing their own camps. Americans Luke Smithwick and Iain Kuo, who are not on O2, are still approaching. They plan to ski the entire route.
Mysteries in the Kangchenjunga region
 
However, there are currently two questions that bother us climbing media (yes, we do talk to each other sometimes): one, the identity of the mysterious single customer who climbs with Alpenglow Expeditions and guided by Topo Mena and Carla Perez.
Unless another team unexpectedly arrives later in the season, as Gelje Sherpa hinted in an interview with ExplorersWeb last week, the team will have the mountain to themselves.
Jannu
The second source of intrigue concerns an anonymous team of five men who applied for a permit to climb 7,710m of Kumbhakarna, better known as Jannu, or the sleeping lion. Jannu is actually close to the Kangchenjunga southern base camp. Its breathtaking north face is perhaps its most distinctive feature, but the summit is a serious challenge from all angles.
 
So who are these Jannu climbers? The first candidates that come to mind are Russians Sergei Nilov and Dimitry Golovchenko, who attempted an epic ascent to the top in 2019. They followed a new route to the SE face which included 18 days on the wall and a nerve-racking retreat. just 200m below the summit.
A few weeks ago, Nilov and Golovchenko, accompanied by their usual climbing partner Dimitry Grigoriev, climbed a new route on the south face of the 6,873m Topographers summit in Kyrgyzstan. The mountain is the third highest in the Tien Shan and a perfect preparation for something like Jannu. More info on their ascent in Kyrgyzstan here.
 
Another possible candidate for Jannu is American mountaineer Sam Hennessey, who won a peak scholarship from the American Alpine Club for a project on Jannu East. However, Jannu East is considered a separate summit. Hennessey is expected to obtain a specific permit for Jannu himself. (Thanks to KrisAnnapurna for the hint!)
About the Author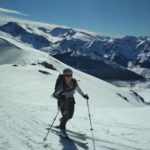 Angela Benavides
Senior journalist, published author and communications consultant. Specialized in high altitude mountaineering, with an interest in everything that surrounds the mountain: from economics to geopolitics. After five years exploring distant professional lines, I returned to ExWeb BC in 2018. I have felt at home ever since!
[ad_2]